For The Love of Sci-Fi 2017 - Sat 2nd Dec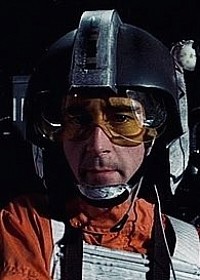 Stars Wars - Wedge Antilles
Less Than Favourable Comic Con For Disabled People
*Click on the images to enlarge them
I decided to go to 'For The Love Of Sci-Fi' mainly to meet Denis Lawson; 'Wedge Antilles', of 'Star Wars', 'The Empire Strikes Back', and 'Return Of The Jedi', fame.
Casper Van Dien, of 'Starship Troopers' was there as well. As Casper is in one of my wife's favourite films, she wanted his autograph. 
My experience at the Con was less than favourable. It was so crowded that it was hard to move; let alone view the exhibits properly.
Being in a wheelchair, people appeared to ignore you. Whenever, some made room for you, others moved in, before you could move into the space. So moving around was frustrating, and when you got to where you wanted, one was exhausted.
There is the functioning, 'Star Wars' Canteena, upstairs where one could relax; have a drink and enjoy the Canteena exhibit. But, as a wheelchair user, there is no lift to get upstairs to enjoy the exhibit  
I hate to think what it was like for non-wheelchair, disabled, person. 
To be honest, I will avoid 'For The Love Of Sci-fi' in the future.
For more information visit For The Love Of Sci-Fi.