Collectormania 2019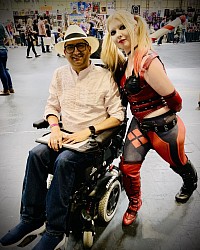 Harley Quinn 'Bat-Man' - Cosplayer
A Great Way For A 'Carer' or Friend To Experience Comic Con - Collectormania 2019 Sat 1st June
*Click on the images to enlarge them
My friend Kelly decided to join me, as a 'Carer' for the experience. He's  never been to a Comic Con before.
Collectormania is a great Comic Con to start your experience. Being at the NEC Birmingham, there is plenty of room if you're in a wheelchair, it isn't crowded either. 
Collectmania is a great introduction to Comic Con. It isn't as busy as London so you can easily adjust yourself to the etiquette of the Con and experience the enjoyment of it. The guests appear calmer which leads to quality engagements with them. 
Ethan Phillips, was really nice, he engaged with both Kelly and I. He noticed Kelly's tribal tattoos, and shared his tribal tattoo and the story of it's meaning. 
Sarah Douglas was engaging. She was interested, in my experience with multiple sclerosis and being in a wheelchair. I'm not afraid to discuss my experiences, in fact if people are willing to discuss it, the better. That way they can learn more about your disability. 
For his first time at a Comic Con, Kelly, really enjoyed himself.
But, there was just one problem, only one disabled toilet was available for use in the exhibition hall, even though there are two. I emailed a complaint of my concerns to the NEC Birmingham, last year, but I just received a standard reply and nothing appeared to have changed. 
Despite, this problem, Collectmania is a great Comic Con to start your own experience.
For more information visit Collectmania.