Wales Comic Con (Telford Takeover) 2021 / LFCC 2021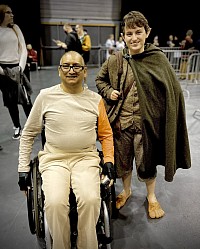 Samwize Gamgee 'Lord Of The Rings' - Cosplayer
"What a tale we have been in, Mr. Frodo, haven't we?" - Wales Comic Con (Telford Takeover) 2021 Sat 20th Nov
*Click on the images to enlarge them

After a long break due to the Covid pandemic, Comic Cons were back. This was my first time at Wales Comic Con and after my initial thoughts of a positive experience, things were taking a slow downhill turn. After arriving and receiving my 'Access Pass' wristband, to help disabled attendees, all seemed well. 

Then as more attendees and Cosplayers entered the halls, social distancing, appeared to disintegrate. It appears that the organisers may have oversold the event. This became more apparent throughout the day. 

When buying the tickets online for both entrance and photo ops, it appeared you also had to buy autograph tickets, if one wished an autograph. So when they were sold out, you missed your chance. One assumes, by buying an autograph ticket, a). you are guaranteed an autograph, and b). there wouldn't be much in the way of queuing. And boy, how wrong was I on that point. 
For autographs, one could pay at the desk, so the queues consisted of people who prepaid and those wanting to pay at the desk. And, for some guests, the queues were long. Well my 'Access Pass', meaning I couldn't queue for long, should see me through okay, or so I thought.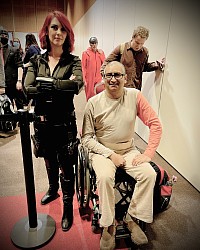 Black Widow 'The Avengers' - Cosplayer
Lack Of Acumen Of The Volunteers
Approaching the autograph queue for Sean Astin, which was already really long, I presented my 'Access Pass', but I was refused to join the access queue. I couldn't understand why, as there was less than a handful in the access queue. I was told to come back later, this happened three times. 

On the third attempt I refused to come back later. I was told that as there was such a large number requiring an autograph, they were told to stop the queue and not allow anymore to join, even if they had an 'Access Pass'. I argued that I had prepaid and had an 'Access Pass', which trumped those in the queue that haven't paid and my pass trumped those queuing due to my disability. After a long discussion I was allowed to join the access queue.
The lack of acumen was apparent amongst the volunteers, they had their instructions and they stuck to them steadfast. There was no room for initiative or judgment on situations beyond the boundaries laid out.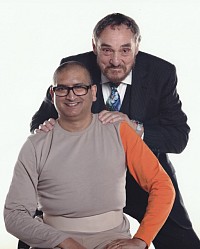 John Rhys-Davis
Communication was lacking
One of the issues at
Wales Comic Con
 was the lack of communication amongst the volunteers and organisers. This led to confusion and information being misled to attendees. 
This experience was fed between attendees and comparisons being made with last year's event. Even though this was my first time at this event, attendees who were at Wales  Comic Con last year, found this year's event was an improvement. Yet, further improvements can be made for future events.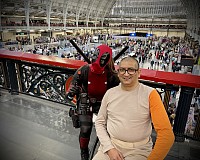 'Deadpool' - Cosplayer
"Please don't make the super suit green... or animated!"  Deadpool - London Film & Comic Con Sun 21st Nov 
LFCC
 was a welcome relief to what I experienced yesterday, at
WCC
. As a comparison; it was well organised; not oversold; where 'social distancing' was easily maintained due to it not being overcrowded. There is a lot that
WCC
could learn from
LFCC
. Suffice to say,
LFCC
 was not perfect to start with and did have it's own learning curve to contend with. 
This year all the guest signings and photo ops were on the balcony of London Olympia and the stalls on the ground floor. The 'virtual queue' system worked well keeping queues for autographs manageable. Those with an 'Extra Help' wristband were bumped to the front of queues without any issues.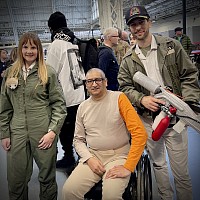 Lambert and Dallas 'Alien' - Cosplayers
"In NerdSpace, no one can hear you scream."
This year there wasn't many celebrities that I wanted to meet. But, as a fan of the movie 'ALIEN', I had to meet Tom Skerritt and Veronica Cartwright. After meeting Sigourney Weaver in 2015, it was a pleasure to meet two others from the movie. 
Even though I never had the chance to meet the others from the movie, I did manage to acquire the authenticated autographed Showmasters header  of John Hurt, when he was one of their guests. If ever I could get Ian Holm, Yaphet Kotto and Harry Dean Stanton, it would be great to complete the set.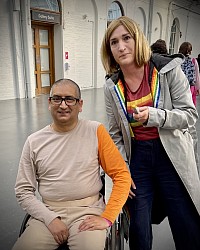 The Doctor 'Doctor Who' - Cosplayer
LFCC Cosplayers 
As there were not many guests to meet this year, I had a chance to meet more
Cosplayers
. So as I was going around the Con, I had the pleasure of meeting people acting as their favourite film and comic character. 
There are not many anime or manga character Cosplayers, as this Con doesn't explore animation. Also being at Olympia, is not easy to transport costumes that may portray characters in large, heavy and bulky outfits. You tend to find such Cosplayers at events like London ExCel and Cons that also cater for anime and manga.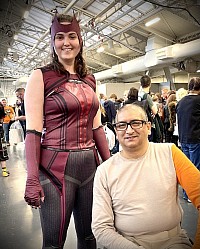 Scarlet Witch 'WandaVision' - Cosplayer
Guests And Celebrities 
One of guests that I really had to meet was
Brian Blessed
. Not only was he in all time favourite '
Flash Gordon
', but he doesn't live too far from Reading. And, as I recently started
Wheelchair Rugby 
for the
Berkshire Banshees WRC
, I had to sweet talk Brian, into cheering for the
Banshees
upcoming end of season tournament that could see them promoted. 
Along with Tom Skerritt; Veronica Cartwright; and Brian Blessed; there was Ben Browder of 'Farscape'. I remember, I started watching 'Farscape', when I was working and away from home, in a hotel room while waiting for room service. The TV was on, more for background noise after a hard day's work and travelling, and then 'Farscape' started. Since then I was hooked. 
The guest I didn't bank on meeting was
Staz Nair
, of '
Game Of Thrones
' and '
Supergirl
', the series, fame. I'm glad I did, we had a long talk about his role on '
Supergirl
'. O
n how it affected him to portray a genial good-natured and informative character; to eventually end with that of courage and bravery. His sense of being able to connect with the audience through the medium of a camera, is what drives him to excel being an actor.