LFF June 2018 / LFCC 2018 / DST 2018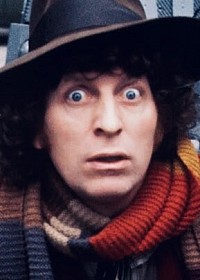 Doctor Who No.4
"Would you like a jelly baby?" - London Film Fair June 2018 Sat 30th Jun 
*Click on the images to enlarge them
Who is the most famous classic 'Doctor Who'?
Tom Baker of course.
Tom was the Doctor for seven years, the most famous and longest incarnation of the Doctor. I think apart from Sarah-Jane Smith, 'Leela' played by Louise Jameson, is one of the Doctor's well known companions.
When I found out that Tom Baker and Louise Jameson were going to be at the Film Fair, I had to go. 
I have to admit, despite the multiple sclerosis and the issues that come with it, I feel more energetic. The only way I can explain it, is I must have a rush of adrenaline; when I wake up, getting onto my transport, entering the venue and finally meeting my heroes.
After the event, it can take me days to recover from the excitement. But, it's always worth it.
For more information visit London Film Fair.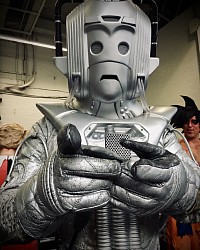 Cyberman 'Doctor Who' - Cosplayer
Doctor Who, Aliens, The Walking Dead and The X-Files - London Film & Comic Con 2018 Sat 28th Jul
*Click on the images to enlarge them
This is my third time to LFCC, and as before I was excited to go.
'Aliens' being one of my favourite movies, I had the opportunity to meet Lance Hennriksen, 'Bishop', and Christopher Eccleston, of 'Doctor Who' and 'The X-Files', David Duchovny were there. And being a fan of 'Doctor Who', and 'The X-Files', I just couldn't resist. 'The Walking Dead', is very popular, so there was no surprise people were Cosplaying as characters from the show.
What is Cosplay? Well, Cosplay, is where fans dress up as characters from their favourite shows and games.
The London Con was very busy and I was glad I was using my powered wheelchair. I was grateful to have registered for an 'Extra Help', wristband. It meant I could make my way to the front of queues, for autographs and photo shoots.
By the end of the day, I was glad to get home, even though I had an enjoyable time at the Con. 
For more information visit London Film and Comic Con.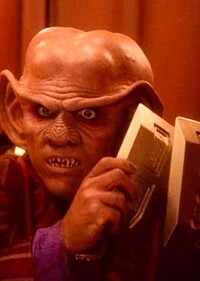 Quark - 'Star Trek:DS9'
Watch Your Latinum, The Ferengi Are Here - Destination Star Trek 2018 Sat 20th Oct
*Click on the images to enlarge them
My last Con of 2018 at NEC Birmingham.
This was going to be the first time the Ferengi family of 'Star Trek : Deep Space Nine', were going to be together in costume. So I decided to cosplay for the photo shoot, so I dressed up in a Gold Command shirt from 'Star Trek : TOS'.
Fred Haise, Apollo 13 Lunar Module Pilot, was someone not to miss. As we all know, the disaster on Apollo 13, meant they missed their Moon landing. What I wanted to know was,
"How much poetic license was there in the film?"
Fred said, "There was a lot of poetic license."
"Most of it was in the dialogue, the actual dialogue would have been boring as it was rather technical; so wouldn't have made good viewing."
For more information visit Destination Star Trek.