LFCC 2022 / LCC Winter 2022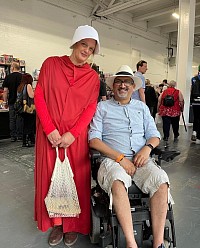 Handmaid 'The Handmaid's Tale' - Cosplayer
Hot But Cool - London Film & Comic Con 2022 Sat 9th July
*Click on the images to enlarge them
It sure was a hot one this year, and that was just the temperature. In the middle of a heatwave it was going to be tough being in Cosplay for many. So it was no surprise that this year not many were in large Cosplay outfits. To make it comfortable for all, especially those in Cosplay, the venue ramped up the AC. 
I managed to queue up early, and was queuing up indoors and found ourselves on the first floor of Olympia Hall. So we overlooked the ground floor where the traders were.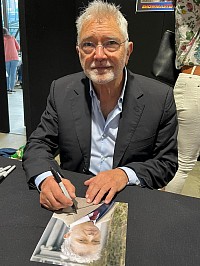 Martin Shaw
Autographs 
I got in at 9am and always the first thing on the agenda was getting my autographs.
I was hoping to get David Habour's autograph, unfortunately as he was acting in theatre in London, he was only there till 1pm. He also had photo shoots to do in his time there, so the likelihood of getting his autograph was going to be rare; especially when he didn't manage to get through all his Diamond Pass holders the day before. 
I had four on my list, and by 10.30am I was done, and as always it was a pleasure to meet all.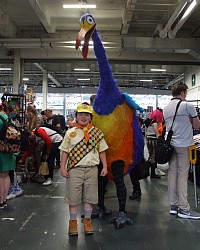 Russell and Kevin the Snipe 'Up' - Cosplayers
Cosplay 
Not many were in heavy large Cosplay outfits, being in a heatwave it was understandable. Those that were in Cosplay, wore easy lightweight costumes. 
There were enough people who braved the heat. One of the most impressive outfits was that of 'Kevin the Snipe' from 'Up'. I didn't want to risk the heat with my MS, so didn't Cosplay as 'Clark Kent/Superman' as I planned to; will have to at the next Con I go. 
Photo Shoots 
During the day I had three photo shoots. Two of which were with celebrities I already had autographs of, Jeri Ryan and Katee Sackhoff. 
I had already met Jeri Ryan before at Destination Star Trek 2018, but didn't have the chance get a photo shoot  

But I never met Katee Sackhoff I got her autograph directly from Showmasters Autographs. As Showmasters organise LFCC they only have autographs of their previous guests, and as Katee has cancelled a number of times I didn't know if or when I was ever going to meet her. I was overjoyed to have finally met her this year and have a photo shoot. 
And to be honest, this going to be my favourite photo with a celebrity.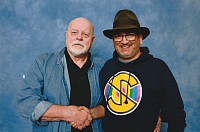 Michael Ironside
London Comic Con Winter 2022 Sat 19th Nov
I wasn't planning on going to LCC Winter 2022, but I had no choice. Michael Ironside, cancelled his appearance at LFCC 2022 and moved to Winter 2022. And as I organised a photo shoot with Michael, I wasn't going to miss it. 
I also took the opportunity to meet Harry Lloyd, (Baines/Son of Mine -'Doctor Who/S3 Ep8/9 Human Nature/The Family Of Blood'). He played the character in such a way that made your skin crawl.