Remembering Aron Eisenberg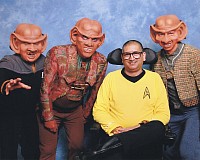 Nog(Aron Eisenberg), Quark(Armin Shimerman) & Rom(Max Grodénchik) - 'Star Trek:DS9' DST 2018 Birmingham
Aron Eisenberg RIP
Aron Eisenberg, who played Nog on Star Trek: Deep Space Nine, sadly passed away on 21 September 2019.
I was fortunate to meet Aron at Destination Star Trek: Birmingham, last year. 
Nog, was best friend to Jake Sisko, son of Capt. Sisko on DS9. Later he joined Starfleet, and became helmsman on board USS Defiant, commanded by Capt. Sisko.