It's All About the Experience. The Joy of a Disabled Wheelchair User at Comic Cons. 
Comic Cons for a Nerd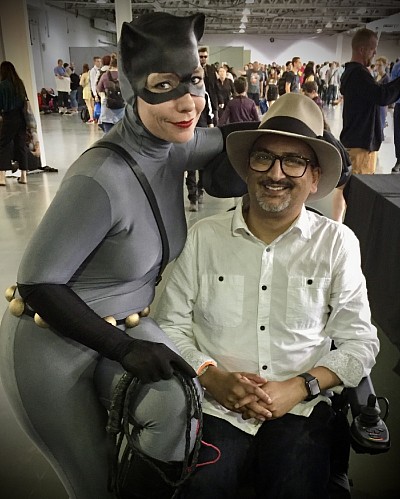 Catwoman Cosplayer and I
Comic Cons evolved in the U.S., most famous being the San Diego Comic Con. New sci-fi/fantasy movies and TV serials are usually announced at San Diego, with trailers and cast/crew talks. 
As sci-fi/fantasy has become more and more popular worldwide, hosting Comic Cons has also become popular. Comic Cons are mainly Cons where fans of comics come together to meet artists and writers, but any genre of film and TV has been incorporated. Fans are able to meet the stars of TV and film of their favourite programme. Here they (actors) can discuss their experiences and feelings of filming.
As a big fan (or Nerd) of sci-fi/fantasy film and TV, I share my experiences of Comic Con here. Whether you are wheelchair user or not, having a disability does not stop one enjoying a Comic Con. I have Multiple Sclerosis and a wheelchair user, but that doesn't stop me, I enjoy my time at Cons.
I am also aware that MS is unique to people suffering from it. So, only you can say, whether you can cope with or not, being at an event like this. If you are not able to go, then I have created this site for both you and I to enjoy.

All the best,
RedShirt Sid