LCC Winter 2023
An Early Start To My First London Winter Con Sat 11th Nov
*Click on the images to enlarge them
An early start, 4.30 a.m., to London Comic Con Winter, I decided to leave the car at home and travel by public transport all the way. It was freezing, so would be glad once I got on bus out of the cold. 
So what were chances of there being another wheelchair user on the bus already, so early in the morning? Well, there was, also trying to get to the railway station as well. The next bus was going to be in an hour, meaning I was going to miss my train. 
Now, here I've got to applaud the bus company. The bus driver called the depot to see what could be done. First, he found out if he could transport both of us wheelchair users together. Unfortunately, he wasn't allowed to, as it would invalidate their insurance. Then it suggested they could get me a black cab, to accommodate my wheelchair, again this was not possible. So, the depot arranged for an extra bus to pick me up and get me to the railway station.
I ended up at railway station before the scheduled bus got there. Now that was exceptional service.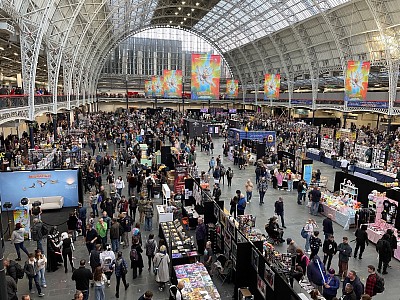 LCC Winter 2023 in full flow
Unexpected Delight Of Meeting Karen Gillan, Even Though I Was There For Olivia Cooke
This was my second London Comic Con Winter visit, and was there to meet Olivia Cooke. A friend of mine had a chance to have a photo shoot with Karen Gillan. Unfortunately, he wasn't able to attend due to illness, so offered me the chance to have his spot. 
As this was her first UK Con for while, I happily took his place, instead of wasting the opportunity. She wasn't on my list, but was glad to add her, even though I didn't get her autograph. Maybe, next time.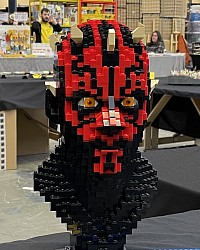 Darth Maul in Lego
Winter Cosplay
I myself was thinking of Cosplaying, but decided against it due to the weather and early start to the day. Despite the weather, many did Cosplay, and as there were changing facilities available, I'm guessing many changed at the venue. 
There was also a small display for Brick Festival, an event for Lego displays and builds. I was quite impressed with the Lego Darth Maul display, as shown here. 
The one Cosplayer I was in awe of, was Amy Pond of 'Doctor WHO'. The reason being, was the length of her hair. It was all hers, not extensions, how impressive is that?
The Umbrella Corp. UK Division were also on hand to provide safe passage  in case of a Zombie outbreak. If you need them follow this link to Umbrella Corp. UK Division.
Final thoughts
In hindsight I should have gone to  For The Love of Horror Con in Manchester. Guests there were Kiefer Sutherland, Jason Patric, Alex Winter and others including Brad & Fiona Dourif.
Also, the following weekend 17-18th Nov, Wales Comic Con Telford Takeover, with a whole host of guests will take place. Unfortunately, l can't be at every Comic Con.