MCM London Comic Con 2017 - Sat 27th May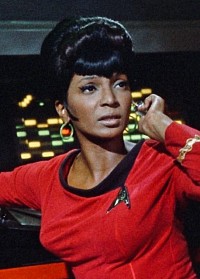 Star Trek - Uhura
"Hailing, all frequencies".
*Click on the images to enlarge them
MCM London Comic Con, was never really on my list of Cons to visit. The venue being the ExCel London, is on the east side of London, which is not easy for me to get to. 
But Nichelle Nichols, 'Uhura' from 'Star Trek : TOS', was going to be there. This was a chance I would never have again.
I was right, Nichelle is retiring from Cons this year (2019). 
My wife is a big fan of 'NCIS : Los Angeles', so she wanted the autographs of Daniela Ruah, 'Kensi', and Eric Christian Olsen, 'Deeks'. Daniela wrote a special dedication to my wife, as she unable to attend.
The ExCel London, wasn't difficult to negotiate around. It wasn't crowded and there was enough room to view the exhibits. My only criticism was the disabled parking; it was confusing and didn't appear to be close to where I wanted to be. 

For more information visit MCM Comic Con.